Why get a Facebook Fan Page?
You might be asking yourself: Why do I need a Fan Page for my business? Please allow me to explain.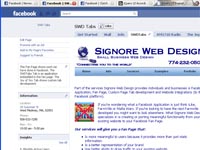 Maybe you love Facebook, Maybe you think it's all a big waste of time. Even if you're in the latter group you can't deny that you know a million people who are facebook crazy. In fact if your in the latter group it probably nauseates you a little. Can't say I'm with you on that. I love facebook. Well then, so why listen to me about fan pages?
Don't!!!!
Listen to the facts:
Facebook has over 500 million active users
Most log in every single day
All Facebook users express their appreciation of a business or other brand through fan pages
All Facebook users spread the knowledge of that business or brand by "Liking" it or commenting on a fan page
Every time one of those interactions happens, every one of the Facebook users friends gets notified. Can you say Viral!
Facebook consumers have come to expect a fan page for business they are checking out.
Signore Web Design can create a fan page that stands out from all the rest. Oooops, shameless plug. Please call me at 508-533-7285 and I'll be glad to tell you how, or read on!
click a client name below to see examples from our Facebook portfolio
Facebook Fan Page Development
It's pretty easy to set up a fan page for your business. You don't really need to pay us or anyone else to do that for you. We'll be glad to throw that in for FREE when you are having us create custom content for your fan page.
What we will do for you, that unfortunately won't be free, is create custom content and branding that otherwise can not be had in a standard Facebook fan page. Part of us doing that will be to evaluate your current website and determine functionality that can be either recreated on a custom tab or (and this is good!) create custom content that automatically updates when you update your website.
There's a lot of ways to skin the Facebook cat and we can put together an incredibly affordable package for you. The end result of our work will be a fan page for your business that is head and shoulders above the standard content that the default fan page allows.
Please contact
Signore Web Design
to find out more about our Facebook customizations.
Facebook Page Tab Development
Do you already have a fan page? There's still a lot we can do to give it custom content and branding that the plain Jane Facebook page just doesn't have. We can create a custom welcome splash tab that is heavily branded or contain content that normally just is not there.
If you have videos, images or MP3 content we can put that into a tab WITH your businesses branding to create a unique experience for your visitors.
Please contact
Signore Web Design
to find out more about our Facebook customizations.
Facebook Application Development
What is a Facebook application? It tales many forms. The most commonly known Facebook applications are ones like FarmVille & Mafia Wars. That's not what we specialize in creating. The focus that Signore Web Design brings is using the Facebook API's to make meaningful connections with your businesses current content, systems or whatever makes sense.
When it comes to all of this stuff it may be a little confusing. Not to worry. Our job is to identify the best path for developing customizations for your fan page.
Please contact
Signore Web Design
to find out more about how this all works.